G SERIES METAL DETECTOR
Free fall metal separator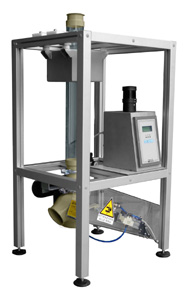 The G SERIES METAL DETECTOR was developed specifically to check flour and granulated products inside pipes, without interruptions in the production lines.
The metal detector finds it's applications in numerous industries, including:
Salt and Sugar
Spices
Flours, Mais Rice, Cereals
Pasta
Pharmaceutical industries
Riclclaggio plastica, legno
The system is constituted by one Tor-Al detection head, one Comp-Al control board and one rapid acting rejection valve. It's a compact and effective solution to all problems of metal contamination.

FEATURES
The G SERIES metal detectors can be realized with different pipes diameter, to adapt to the various typologies and installation conditions.
Every metal detector is equipped with a fast acting rejection valve that can intercept the contaminated product even when travelling at great speeds.
The G SERIES metal detectors can be installed with a vertical passage pipe or on tilted piping.
The rejection valve is made of painted ferrous sheets or stainless AISI304 steel upon request, and is equipped with an automatic position control to prevent jams.
Software-controlled rejection times guarantees minimal loss of product and the removal of the contaminating parts.
NOTES
1: Tor-AL detection head
2: COMP-AL control board (possible remote control)
3: Rejection valve
4: Valve actuator, with protections
5: Clamp ring
6: Acrilic plasctic pipe
7: Pneumatic actuator
Opzional: Charge hopper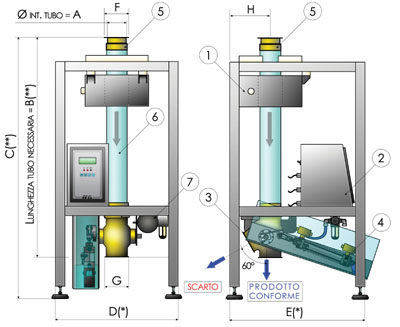 TECNICAL FEATURES

MODELLO/MODEL

A

B

C

D

E

F

G

H

G80
80
1100
1300
590
650
DN80
DN100
170
G100
100
1100
1300
590
650
DN100
DN100
195
G150
140
1300
1500
660
750
DN150
DN150
265
G200
200
1600
1800
660
750
DN200
DN200
290
(*) The supporting structure can be build in custom sizes for particular installations.
(**) Maximum size for high product speed (free fall). Can be reduced in case of slower products (sloped passage)

Metal detectors alimentari